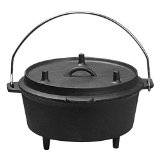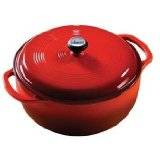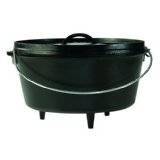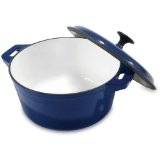 All Clad Dutch Ovens: A Buyers Guide
All Clad Metal Crafters is a Pennsylvania based company that makes cookware, bakeware and kitchen tools. Over the years All Clad has earned a reputation for making high quality, high performing and durable cookware that has become a favorite in many American homes and around the world.
All Clad offers 5 great cookware collections their Stainless Steel, Their Master Chef 2 (MC2), Their Cop R Chef, the Copper Core and their LTD2. Each collection has it's own fans and each collection of All Clad cookware is made with attention to detail and is of the highest quality craftsmanship.
Currently three of All Clad's premium cookware collections feature Dutch Ovens. The LTD 2 collection offers a stunningly beautiful 5.5 quart Dutch oven. The first thing you notice about the All Clad LTD 2 Dutch Oven
is it's dramatic and stylish black anodized aluminum exterior. The inside consists of easy to clean stainless steel and between the anodized exterior and the stainless steel interior is an aluminum core that helps to distribute heat evenly and also retains heat longer than many other types of material.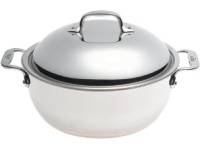 The All Clad Copper core collection features two different sizes of Dutch ovens a 5.5 and 7 quart. These beautiful Dutch ovens have a stainless steel interior and exterior and as the name suggests a copper core to help distribute heat evenly making sure there are no hot spots while cooking that heavenly stew or roasting that plump duck. To add to the elegance of these two Dutch ovens there is a copper stripe around the dutch oven.
The All Clad Stainless steel
collection features both a 5.5 and 7 quart Dutch oven. These Dutch Ovens feature an aluminum core for even distribution of heat, the inside is 18/10 Stainless steel for almost stick free cooking and the outside is polished magnetic stainless steel. These All Clad Dutch ovens also have long stay cool handles.
No Seasoning Needed
Because the All Clad Dutch ovens feature stainless steel interiors they don't need to be seasoned before washing. Simply wash thoroughly upon purchasing and they are ready to use. This saves a lot of worry about the seasoning growing rancid and you can wash all these All Clad Dutch ovens in dishwater every time you use them.
Metal Cooking Utensils Won't Harm The Stainless Steel Interiors
Another good thing about the All Clad Dutch Ovens is that metal utensils will not harm the stainless steel interiors. However, overtime metal utensils may cause scratches so if you want your Dutch oven to look new year after year you may want to use wooden utensils in your Dutch oven or any of your All Clad cookware for that matter.
Tips On Using An All Clad Stainless Steel Dutch Oven
When using stainless steel in order to help prevent food from sticking it is best to warm the Dutch oven over low heat and then add your oil or oil the inside of the dutch oven using a brush before adding the food you want to cook. All though much of All Clad's cookware including some of their Dutch Ovens are designed to be dishwasher safe it is always better to wash it by hand.
To remove all oils and smoke stains from cooking using a soft sponge and Bar Keepers friend periodically will keep your cookware looking shiny and new.
What Makes Buying An All Clad Dutch Oven A Good Deal
Buying an All Clad Dutch oven can give you a Dutch oven that will last year after year. All Clad not only has a reputation for durable cookware but every Dutch oven (and all their other cookware as well) is hand inspected to make sure that it lives up to the quality that All Clad has set and you have come to expect from their products. Many companies simply spot check their cookware here and there meaning some sub par Dutch oven may slip past the inspectors. This is not the case with All Clad because each Dutch oven is inspected.
While an All Clad Dutch oven may seem to be expensive, considering that this may well be the only Dutch oven you need to ever buy it is certainly cost effective. The money you invest now will save you spending more over the life of the Dutch oven and when you discover just how much you will use your Dutch oven and the variety of meals you can cook with it, you will agree the price is more than worth it.
Where To Buy An All Clad Dutch Ovens
You can buy an All Clad Dutch oven any place where All Clad Cookware is sold. This includes local stores handling quality cookware, Online stores and the All Clad website itself. Simply take the time to do a little research to get the best deals possible on this fabulous cookware.
Summary of All Clad Dutch Ovens
All Clad Dutch Ovens are part of three of their collections making it possible to match your Dutch oven with your other All Clad cookware.

The Stainless steel interiors of All Clad Dutch ovens means they don't need to be seasoned and can be washed in dishwater without worry.

All Clad Dutch ovens are attractive

All Clad Dutch ovens comes in two sizes so there is a size to meet your needs.

All Clad Dutch ovens are easy to clean and maintain

All Clad Dutch ovens will last for years this may be the only Dutch oven you need to buy.

Dutch oven cooking is fun and versatile and having a durable and well made dutch oven makes dutch oven cooking more fun.

All Clad is a name you can trust

For those who prefer to shop American, All Clad is an American company and their Dutch ovens are made in the U.S.A
During our research we visited many online vendors and discovered that the best prices are typically found on Amazon.