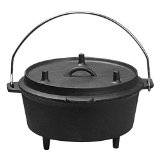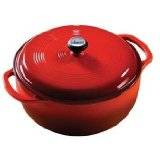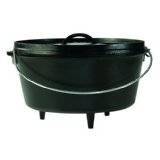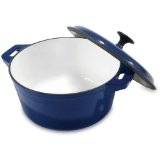 Aluminum Dutch Ovens: A Buyers Guide
With Dutch oven cooking regaining popularity, those new to using this type of cookware find themselves wondering which is better a cast iron or aluminum Dutch oven? The truth is that either type of Dutch oven can provide your family with delicious meals. That being said there are some reasons why you might prefer using an aluminum Dutch oven over one made of cast iron.
Weight
Aluminum dutch ovens
are only a third of the weight of a cast iron Dutch oven. That means they are going to be easier to lift and carry when the needs arise. Let's face it those hearty pioneers needed a cooking pot that could withstand a cow stampede but, today's cooks are not going to have to worry about any kind of stampede but, that of their family rushing to the dinner table so those Dutch ovens don't have to be quite as hearty as what the pioneers used.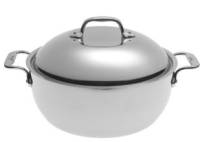 Easy To Clean
Aluminum Dutch Ovens are much easier to clean than are cast iron Dutch ovens. You simply wash them with soap and water. While cast iron Dutch ovens can be washed too, if they are they need special care and even to be really seasoned which makes cleaning them a bit more difficult and worrisome.
More Rust Proof
While aluminum Dutch Ovens can rust under certain conditions they are much less likely to rust under normally every day use than are cast iron Dutch ovens.
What To Look For When Purchasing An Aluminum Dutch Oven
Now that you know some of the benefits of owning an Aluminum Dutch oven you need to know what to look for when shopping for one. Here are a few tips that will help you get a good quality Dutch oven for your cooking needs.
Buy the highest quality you can afford. Not all aluminum dutch ovens are created equal and you should never forgo quality to save money. If you are serious about Dutch oven cooking then you are going to want to purchase the best quality aluminum Dutch oven you can afford so that your meals come out perfectly.

Look at the walls of the Dutch oven. You want to choose an oven with walls of even thickness, this will provide for even heating and cooling and you will be less likely to burn your food.

You are also going to want a tight fitting lid with a lip that extends past the lip of the pot itself. This keeps heat and moisture in your pan and makes the lid easier to remove. If you want to be able to do the full range of cooking with your Dutch oven then make sure that there is ample space for hot coals to be placed on the lid for your Dutch Oven baking.

Choose a heavy Weight aluminum dutch ovens. Those lightweight ovens may seem appealing but they simply don't cook or wear well. A good Aluminum Dutch oven weighs about 7 pounds and is designed to withstand the type of cooking you are going to want to do.
An aluminum Dutch oven can provide you and your family with a variety of wonderful food and cooking experience and taking the time to choose the best Dutch oven possible will allow you to use your Dutch oven for years to come.
During our research we visited many online vendors and discovered that the best prices are typically found on Amazon.