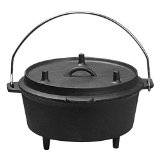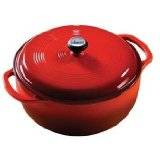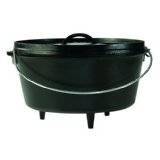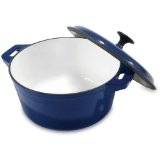 Blue Cheese and Chive Potato Salad
Dutch oven cooking is as popular now as it was centuries ago and today's cooks have discovered that this type of cookware is capable of producing an amazing array of delicious meals. We have collected many Dutch oven recipes over the years and we hope you will use them to create some great meals for your family and friends.
This potato salad with blue cheese is definitely a winner to anyone's taste, with onions and fresh herbs that makes the dish even more appetizing. This is an easy recipe for a great potato salad that you can serve in a picnic or barbecue; just make sure that the potatoes are not cooked too soft so it won't sag.
Ingredients:
8 c Red potatoes; unpeeled, cube, about 2-1/2 pounds
1/2 c Bleu cheese, crumbled
1/4 c Fresh chives, chopped
3/4 c Sour cream, fat-free
1/3 c Buttermilk, nonfat
1/2 c Purple onions, diced
1/2 c Diced celery
1/4 teaspoon Salt
1/2 teaspoon Ground pepper
1 1/2 teaspoon Cider vinegar
Instructions:
Prep time: 10 minutes
Cooking time: 10 minutes
Cooking Steps:

In a Dutch oven place all the potatoes then cover enough water and bring into a boil for about 8 minutes or until tender.

Drain and put in a large bowl.

Add the onion, celery, chives and toss gently to fully coat the potatoes.

In a small bowl combine together the sour cream, buttermilk, salt, ground pepper and cider vinegar then pour over to the potatoes mixture.

Toss gently. Cover and chill
Our Dutch oven recipes are primarily used with cast iron dutch ovens
, but you may also use them with aluminum dutch ovens
or enameled dutch ovens
. If you are new to dutch oven cooking, we recommend you consider buying cookware made by a reputable manufacturer such a Lodge, Le Crueset, Staub, All-Clad, Mario Battali, Calphalon and Emerilware. We check prices regularly for dutch ovens and by far the best prices have always been found at Amazon
.