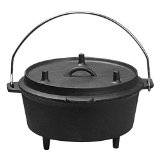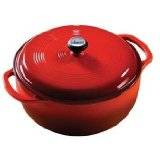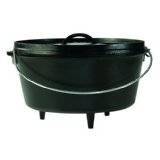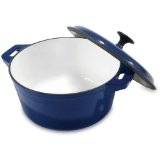 Calphalon Dutch Ovens: A Buyers Guide
In 1963, Ronald Kasperzak purchased a small metal company in Perrysburg, Ohio and began making high quality aluminum cookware for the food service industry. A scant 5 years later his company began using a new process to make anodized aluminum cookware which he called Calphalon Aluminum. This new cookware became an instant success and the Calphalon company was born. Since its inception this cookware has had a reputation for fine quality and incredible durability.
Today this company makes an entire range of cookware, bake ware and utensils for the home gourmet cook within us all, including a wide variety of world famous Calphalon Dutch ovens.
Calphalon Dutch Ovens Are Available In A Variety of Sizes
While most companies carry Dutch ovens in one or two sizes, Calphalon dutch ovens
come in an amazing range of sizes. When you choose a Calphalon Dutch oven you can choose from the following sizes:
• 5 quart
• 6 quart
• 7 quart
• 8 1/2 quart
This means no matter how small or how large a family you may have there is a Calphalon Dutch oven designed to fit the size of your family.
Calphalon Dutch Ovens Offer A Variety of Features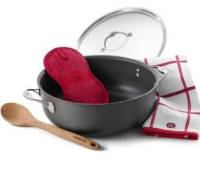 Calphalon dutch ovens
also come with a wide range of features. You can find Dutch ovens that have attractive brushed aluminum lids or ones with tempered glass that allows you to see how your dinner is progressing without ever lifting the lid. For those looking for a Dutch oven to fit their kitchen decor, you can find a Calphalon Dutch oven in mustard, sage, green or red. You can also choose from a variety of cooking surfaces as well such as cast iron, anodized aluminum and non stick.
Benefits of A Calphalon Dutch Oven
Calphalon Dutch ovens have many benefits for those who are looking for a good quality Dutch oven. Here are just some of the benefits.
The various sizes in these Dutch ovens allow you to have the size of a Dutch oven that meets your needs or even have two different size Dutch ovens to meet all your Dutch oven cooking plans.

Various cooking surfaces offered by the Calphalon company allows you to cook in a Dutch oven with the type of surface you are most comfortable with. You can choose from the more traditional cast iron or aluminum cooking surface or a non stick surface that makes clean up fast and easy.

One benefit of a Calphalon dutch oven that most consumers love is the cost. These Dutch ovens are high quality cooking pots at a mid level price making them an excellent choice for people on a strict budget.

Another great benefit of these Dutch ovens is they are designed for frequent use but, also look sophisticated and attractive. The enameled Dutch ovens can easily go from the oven or stove top straight to the table and look as though they belong with the other attractive serving dishes.
Tips On Using Calphalon Dutch Ovens
Proper seasoning of the Calphalon Cast iron Dutch ovens will give you all the traditional flavor of those old time Dutch ovens with a new and more modern and attractive look. For these cast iron Dutch ovens simply wipe them out and wash in warm water after use.
Both the Anodized aluminum and the non stick Dutch ovens are best washed by hand in soapy water. To keep your anodized aluminum looking as new as possible you can use Barkeeper's friend and a Scotch Bright green scrubber to clean off burned on grease and smoke. And of course, using wooden utensils in any of these Dutch ovens when cooking and plastic or silicone utensils in the non stick Dutch ovens will help to keep these Dutch ovens looking their best for years to come.
What Makes Calphalon Dutch Ovens Such A Good Deal?
While price is the first thing that most consumers will tell you is what makes Calphalon Dutch ovens such a good deal there is much more to these Dutch ovens than just the price. When you buy a Calphalon Dutch oven you know you are buying from a company that you can trust and has a great reputation.
In addition, since Calphalon makes an entire line of cookware your Dutch oven can match the rest of the cookware you use in kitchen which is always a plus as is the durability of this cookware.
Then of course there is the wide range of sizes that allows you to choose the right size Dutch oven for your needs and the variety of cooking surfaces and other features you have to choose from when you buy a Calphalon Dutch oven.
Where To Buy A Calphalon Dutch Oven
Finding a Calphalon Dutch oven is a simple task as you can purchase one of these Dutch ovens anywhere good quality cookware is sold. This includes local stores dealing in fine name brand cookware as well as various online stores such as Amazon, and even from the company themselves.
Summary Of Calphalon Cookware
If you are looking to buy a quality Dutch oven that meets all your Dutch oven cooking needs then purchasing a Calphalon Dutch oven may be the right choice for you.
Calphalon Dutch ovens come in various sizes and some great features such as tempered glass lids and a variety of cooking surfaces.

These Dutch ovens sell for a great price when compared to other high quality Dutch ovens

Most Calphalon Dutch ovens come with good warranties

The Calphalon company has a great reputation for making high quality cookware for home use.

The Calphalon company is an American company and their Dutch ovens are made in the U.S.A.

You can purchase your Dutch oven separately or as part of a set with other Calphalon cookware.
During our research we visited many online vendors and discovered that the best prices are typically found on Amazon.