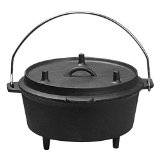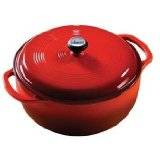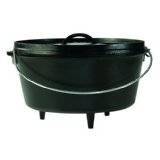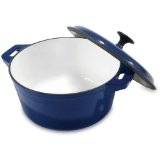 Cast Iron Dutch Ovens: A Buyers Guide
For those of you who want to learn Dutch oven cooking and recreate the meals that your grandparents, or great grandparents created then there is no better Dutch oven to choose than a good quality Cast Iron Dutch oven. Long before aluminum or stainless steel became the cookware of choice Cast Iron was providing appetizing meals for generations. Many modern cooks use cast iron cookware not only because of its ability to perform but, because of it's history. A cast iron Dutch oven seems to somehow bridge the gap between the past and present and provide a comforting sentimental gap between the cooks of yesteryear and today.
Cast iron cookware has been around for generations and has performed and continues to perform through out each and every generation. Some of the best chefs in the world would not use a Dutch oven made from any other material and neither would many home cooks. There are also many practical benefits to choosing a cast iron Dutch oven.
Extremely Durable
Cast iron Dutch ovens were the pots of choice for pioneer families and for a good reason. These pots could travel from East to West over mountains, across prairies and into the unknown, being used day after day. They were kicked, trampled, thrown and still held up to the worst cooks and cooking conditions imaginable. They are heavy duty and able to withstand being dropped over and over without breaking and in most cases with few if any dents or dings. They can withstand high and low temperatures and still be used over and over again.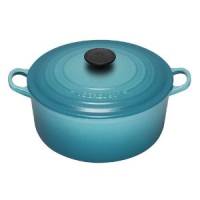 Can Be Used To Cook Anywhere
A cast iron Dutch oven can be used to cook anywhere on top of the stove, in the oven, over coals or hanging over a flaming fire. These ovens are able to withstand high heat and if properly seasoned and watched can cook just about everything with less worry about food getting burned.
High Heat Retention
Cast iron dutch ovens
can keep food warm for longer, even if you are camping out in the middle of winter. They have the ability to retain heat for longer periods of time which means that once the meal is done cooking and removed from the stove, oven or campfire even that person who arrives late for dinner may get a warm dinner with the need for rewarming the food. It also means that second helpings of stew will be as tasty and warm as the first helping.
Even Heat Distribution
Cast iron dutch ovens
allow for even heat distribution which means that you don't have to worry that the chicken you roasted in it will be too done on one side and raw somewhere else. Because these Dutch ovens distribute heat evenly it is easier for even the most inexperienced cooks to turn out great meals that they can be proud of with less worry.

Tips on Purchasing A Cast Iron Dutch Oven
Like all kitchen appliances you are going to want to make sure that the cast iron Dutch oven that you purchase is of the highest quality Dutch oven you can afford. Choosing a Dutch oven that is made to last for years and years will in the long run save you money and frustration and make it simpler to increase your Dutch oven cooking skills. Here are a few tips that may help you find the best oven for you.
Choose a Dutch oven made in the U.S.A. When it comes to buying a quality Dutch oven where that oven is made may have a direct bearing on how well made the product actually is. Dutch ovens have been a part of the American experience for well over 200 years and there are companies that made Dutch ovens for those pioneer families that are still in business today. You simply can't beat that kind of know how when you want a quality product.

If you plan on using your Dutch oven in the oven, avoid those with wooden handles. While wooden handles may mean that the handle is cooler to the touch it will burn and eventually fall off if used in oven cooking.

Make sure your Dutch ovens sides are of equal thickness.

Choose a Dutch oven that has a tight fitting lid.
Following these few buying tips will help you to choose the right cast iron Dutch oven for all your cooking needs.
During our research we visited many online vendors and discovered that the best prices are typically found on Amazon.