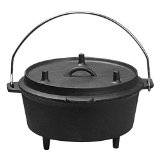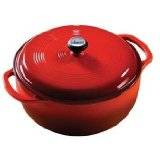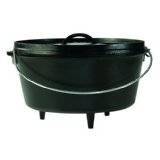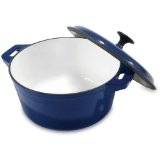 Cheese Stuffed Red Peppers
Dutch oven cooking is as popular now as it was centuries ago and today's cooks have discovered that this type of cookware is capable of producing an amazing array of delicious meals. We have collected many Dutch oven recipes over the years and we hope you will use them to create some great meals for your family and friends.
Amazing, remarkable and exquisitely delicious are the few things that you can say to this rich and full of flavour dish. A complete meal that will make you happy and full at the same time; this cheese stuffed red peppers is certainly a must have to your recipe box!
Ingredients:
1/2 lb Ground turkey breast
8 oz FF Pepper Jack Cheese, HC -- Shredded
3/4 c Cooked brown rice
3/4 c Cooked wild rice
1 teaspoon minced Garlic
3 large red peppers
1/3 c sliced Green onions
2 oz chopped Pimiento
1/8 teaspoon Cayenne pepper
4 c Water
Instructions:
Prep time: 10 minutes
Cooking time: 40 minutes
Cooking Steps:

Pre-heat the oven to 350 degrees F

In a skillet cook and saute the turkey and garlic until browned. Drain.

Slice in half the red peppers lengthwise then remove seeds and membranes, rinse.

In a large Dutch oven bring water into boil and cook the pepper halves for about 2 minutes. Drain.

In large bowl stir together 1 cup of cheese, brown rice, green onions, pimiento, cayenne pepper and turkey mixture. Stuff each pepper with this mixture.

Arrange the pepper halves in 12"x 7" baking dish sprayed with non-stick cooking spray, cover and let it bake for about 30 minutes.

Remove the cover and sprinkle the cheese. Continue baking until cheese melts.

Serve.
Our Dutch oven recipes are primarily used with cast iron dutch ovens
, but you may also use them with aluminum dutch ovens
or enameled dutch ovens
. If you are new to dutch oven cooking, we recommend you consider buying cookware made by a reputable manufacturer such a Lodge, Le Crueset, Staub, All-Clad, Mario Battali, Calphalon and Emerilware. We check prices regularly for dutch ovens and by far the best prices have always been found at Amazon
.