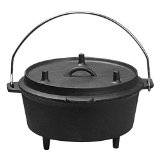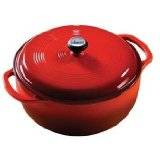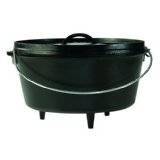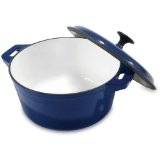 Chilled Asparagus and Grape Salad
Dutch oven cooking is as popular now as it was centuries ago and today's cooks have discovered that this type of cookware is capable of producing an amazing array of delicious meals. We have collected many Dutch oven recipes over the years and we hope you will use them to create some great meals for your family and friends.
Easy, nutritious, healthy and full of flavor; this dish is everything you are asking for. Perfect as a side dish of serve with rice for vegetarian meal; enjoy your asparagus with the perfect apricot vinaigrette as you've never tried it before.
Ingredients:
1/2 c Apricot vinaigrette; see recipe
1 lb Slender asparagus; washed and trimmed
1/2 c Julienne-cut red bell pepper
1 c Green and red seedless grapes; halved
Instructions:
Prep time: 10 minutes
Cooking time: 15 minutes
Cooking Steps:

Using Dutch oven pour over 1 inch of boiling water; then using a steamer rack, place the vegetables. Make sure that the asparagus is on top.

Cover and let it steam for about 5 minutes or until tender.

Place the pepper strips over the asparagus. Cover for about 1 minute more (off the heat)

Carefully transfer the vegetables and place under cold running water to stop it from cooking.

Drain and let it cool until ready to serve.

Distribute asparagus evenly among four chilled salad plates. Add ½ cup of grapes

Drizzle with 1 to 2 tablespoons of dressing and toss carefully.

Serve.
Our Dutch oven recipes are primarily used with cast iron dutch ovens
, but you may also use them with aluminum dutch ovens
or enameled dutch ovens
. If you are new to dutch oven cooking, we recommend you consider buying cookware made by a reputable manufacturer such a Lodge, Le Crueset, Staub, All-Clad, Mario Battali, Calphalon and Emerilware. We check prices regularly for dutch ovens and by far the best prices have always been found at Amazon
.