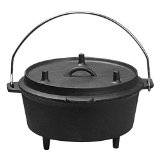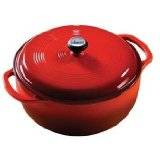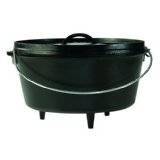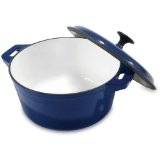 Cuisinox Dutch Ovens: A Buyers Guide
The Canadian based Cuisinox company has become renowned for their multi-clad handcrafted cookware. This high quality, sophisticated yet functional cookware has become exceptionally popular both in Canada and the United State. Cuisinox Dutch ovens are no exception combining the same combination of beauty and functionality that has made Cuisinox so popular among those who enjoy great cooking.
These classy and timeless Dutch ovens are made of 18/10 stainless steel with an aluminum core for even heat distribution. The two toned satin mirror finish on the outside of these Dutch ovens (and all Cuisinox cookware) adds an extremely attractive touch to modern cooking, while the graduated markings on the inside of the Dutch oven helps ensure correct measurements of all ingredients.
Various Size Dutch Ovens For Various Size Families
Cuisinox offers various size Dutch ovens for various size families and various size Dutch oven cooking needs. While the 3, 3.75, and 4 quart Dutch ovens are perfect for a small family of 2 or 3 or for making that Dutch oven dessert. The 7.8 and the 8.5 quart Dutch ovens are perfect for that large family casserole or roasting that holiday turkey or ham.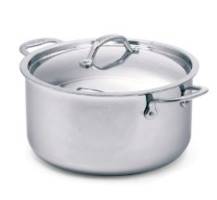 Cuisinox Dutch Oven Advantages
Cuisinox Dutch ovens have many advantages. Their stainless steel inside makes for practically no stick cooking while their two toned mirror exterior means your Dutch oven can go from the stove top or oven right to the table and look great even if you are having the most discerning company for dinner.
These Dutch ovens are easy to clean and are both dishwasher safe and can be washed with soap and water by hand. In addition, because these Dutch ovens have a stainless steel interior they never need seasoning and can produce professional tasting meals almost effortlessly. Their close fitting lids hold moisture in making those roasted meats more tender than you could imagine.
Tips On Using Cuisinox Dutch Ovens
When searing meat or cooking with oil in your Cuisinox steel Dutch oven, warm the Dutch oven over a low heat and then coat the inside of the pan with oil and add what you need making sure the oil warms before putting in the meat. This will keep most of your food from sticking. In addition, if you are cooking pasta in your Dutch oven rub a little olive oil on the inside of your Dutch oven before adding water. This will keep pasta from leaving that sticky residue on the side and also will have the added advantage of keeping your pasta from sticking together as well.
Washing your Dutch oven with soap and water then immediately drying it will help to keep your Dutch oven's shiny exterior from having water spots. Should calcium deposits start collecting on the inside boiling water and vinegar should rid your Dutch Oven
and other Cuisinox cookware of the calcium. For tougher stains try using Bar keepers friend and a soft cloth to clean the stains. Using glass cleaner on the outside of your Dutch oven can keep the mirrored surface sparkling and as bright as the day you purchased it.
Cuisinox Dutch Ovens Are A Great Deal
For those of you are looking to do more Dutch oven cooking and are looking for a durable Dutch oven that can go from the kitchen to the table with ease, then a Cuisinox Dutch Oven
may just be the Dutch oven for you. These beautiful Dutch ovens can be a great deal for the following reasons.
If you already own and love Cuisinox cookware, then these Dutch ovens will not only fit in with the kitchen cookware you already love but, they are designed and manufactured by a company you trust

Although these Dutch ovens may seem somewhat expensive at first glance when you consider their durability and the 25 year warranty offered by this company on this Dutch oven you will quickly see that these Dutch ovens are a good deal in terms of investment. The more often you use your Dutch oven the more you will realize what a wise investment you made.

The non stick quality of stainless steel combined with the graduated markings on the inside of your Cuisinox Dutch oven makes Dutch oven cooking more functional and mistake proof than ever before.

Easy to use, easy to clean and attractive inside and out a Cuisinox Dutch oven is the perfect combination of a great cooking tool and attractive table casserole dish. The 2 toned mirror finish gives these Dutch ovens a sophistication lacking in most traditional Dutch ovens.

Where And How To Buy Cuisinox Dutch ovens
Cuisinox Dutch oven
can be found almost anywhere quality cookware is sold. However, if you want to get one of these beautiful Dutch ovens at a reduced price, comparison shopping will help you to get the best deal possible on these ovens. Checking for sales with local kitchen ware stores and shopping online for one of these Dutch ovens can help you find the Dutch oven you want at a price you can afford.
Summary of Cuisinox Dutch ovens
Cuisinox Dutch ovens have a lot to offer people who really enjoy Dutch oven cooking.
They are made by a company with a fine reputation in making high quality, high functioning, and durable cookware. Their popularity in both Canada and the United States makes finding these Dutch ovens simple and easy.

Cuisinox Dutch ovens come in a variety of sizes meeting every cooks Dutch oven needs.

These Dutch ovens require no seasoning can be washed in hot soapy water, and provide an almost non stick surface all of which makes your Cuisinox Dutch oven easier to use than more traditional Dutch ovens.
During our research we visited many online vendors and discovered that the best prices are typically found on Amazon.