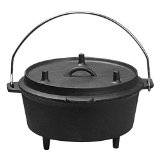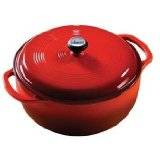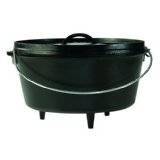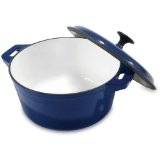 Eastern North Carolina Smoked Turkey
Dutch oven cooking is as popular now as it was centuries ago and today's cooks have discovered that this type of cookware is capable of producing an amazing array of delicious meals. We have collected many Dutch oven recipes over the years and we hope you will use them to create some great meals for your family and friends.
Keeping it simple is the best way. Be sure to use a high-quality smoker, so that it will cook for a long time and turkey will be moist tender and smoky. A great recipe even for a first timer; very delicious, very savory, robust that warms the body and the soul. Goes well with corn bread!
Ingredients:
1 large Turkey, 15-20 pounds
Oak and apple wood for smoking
12 oz Apple cider vinegar
1 tablespoon red pepper flakes
2 tablespoons Black pepper
4 tablespoons Worcestershire sauce
1 c Garlic; finely minced
2 Sprigs fresh rosemary; finely chopped
2 Sprigs fresh thyme; finely chopped
2 Sprigs fresh sage; finely chopped
2 tablespoons Brown mustard seeds; crushed
4 tablespoons Nuoc mam
2 c Water
Cooking Instructions:
Prep time: 20 minutes
Cooking time: 3 hours
Cooking Steps:

Using a water smoker or smoker with an offset firebox, smoke turkey for about 5 to 6 hours at 225 degrees, using a 50/50 mixture of oak and apple wood. Place a pan under the turkey; use the drippings as the basis for stuffing the turkey.

Remove the turkey form the smoker and place in a large Dutch oven.

Mix together the apple cider vinegar and red pepper flakes and pour into the turkey, add 2 cups of water.

Prepare the stuffing and mix together all the remaining ingredients and stuff cavity of turkey stuff cavity of turkey (you can do this before beginning to smoke as well if you choose).

Reserve some of the mixture stuffing to spread outside the turkey

Cover then put in the range oven, and let it bake at 325 degrees for an additional 2 hours. Hint: For crisp skin remove the cover from the Dutch oven about a half hour before the turkey is done.

Serve

.
Our Dutch oven recipes are primarily used with cast iron dutch ovens
, but you may also use them with aluminum dutch ovens
or enameled dutch ovens
. If you are new to dutch oven cooking, we recommend you consider buying cookware made by a reputable manufacturer such a Lodge, Le Crueset, Staub, All-Clad, Mario Battali, Calphalon and Emerilware. We check prices regularly for dutch ovens and by far the best prices have always been found at Amazon
.