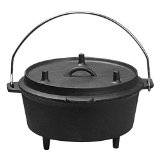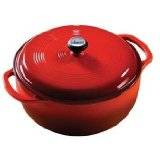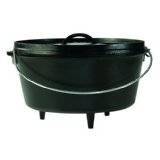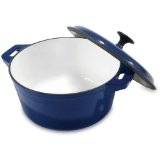 Emerilware Dutch Ovens: A Buyers Guide
Emeril Lagrasse is a famed celebrity chef whose mouthwatering creations are copied by people all around the world. As a renowned chef whose reputation depends on his ability to turn out the perfect culinary creation he knows how important having the right cookware can be. That is why this chef designed his own cookware and had it manufactured by one of the most reputable cookware manufacturing companies in existence today, All Clad. The result is cookware that almost any cook would be proud to own. The Emerilware Dutch ovens are no exceptions.
Those who enjoy collecting Emeril Lagrasse's Dutch oven recipes for soups, stews, roasts and other great dishes can now use a Dutch oven that bears his name and seal of approval. You can purchase an Emerilware Dutch oven in either traditional format or an ultra modern convenient style.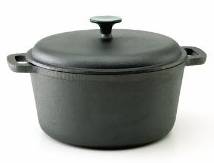 Choosing the 6 quart cast iron Emerilware Dutch oven will allow you to cook in the true tradition of your ancestors making wonderful and creative dishes in a well seasoned and much loved Dutch oven. Or if cast iron cooking is simply not your style then you can do your Dutch oven cooking in the Emerilware 8 quart non stick Dutch oven.
The non stick Dutch oven sports a charcoal black anodized aluminum exterior that is exceptionally thick to make better heat distribution while the non stick interior is three layers to make for a more scratch resistant surface that will last longer than most non stick surfaces on the market today.
Benefits of The Emerilware Dutch Ovens
Due to the two different styles of these Dutch ovens, cooks can experience a variety of benefits. The cast iron Dutch oven allows for great indoor and outdoor Dutch oven cooking and for those cooks who feel that only a cast iron Dutch oven will do, it offers them the feeling of traditional Dutch oven cooking.
The non stick Emerilware Dutch oven
offers more modern cooks a convenient and more familiar type of cooking surface for their Dutch oven cooking as well as easy clean up and a Dutch oven that can go from the stove top or oven straight to the table. This non stick Dutch oven can also go right in your sink and be washed with dish detergent and hot water.
Tips On Using Emerilware Dutch Ovens
Both Emerilware Dutch ovens
are great but the care for each of these ovens is different. The cast iron Dutch oven should be seasoned like any other cast iron Dutch oven to create a seal to make cooking less of a chore and to help protect the cast iron from scratches. In addition this cast iron Dutch oven should never be washed with soap. Simply wipe out the excess food, wash with hot water and dry immediately making sure to lightly oil it before putting it away.
The non stick Dutch oven should also be washed by hand and although you can clean it in soapy water. You should never use any type of dish scrubber on the non stick surface. You should also stick to using plastic, wood or silicone utensils with your non stick Dutch oven.
What Makes Emerilware A Good Deal?
People who are looking for a well made Dutch oven that is durable and well designed may well like either of the Emerilware Dutch ovens
for several reasons.
Emerilware is manufactured by one of the most reputable cookware manufacturers in business today and is designed by a chef who knows how a Dutch oven should function to create the best possible foods.

These Dutch ovens come with a lifetime warranty against defects which means that if there happens to be a defect with your Dutch oven it will be replaced free of charge to you.

Since Emerilware has an entire line of cookware you can match your Dutch oven to other cookware.

Emerilware Dutch ovens have both the traditional cast iron cooking surface and a non stick surface allowing you to choose which Dutch oven cooking experience you prefer.
Buying Tips For Your Emerilware Dutch Oven
You can purchase Emerilware almost anywhere where fine quality cookware is sold as well as from the All Clad company itself. However, since this wonderful cookware is of such a high quality it does command a rather high price so shopping online for discounts and sales that may result in getting your Dutch oven for a reduced price will result in some handsome savings to you.
Summary Of Emerilware Dutch Ovens
Emerilware is designed by renowned chef Emeril Lagrasse who knows how much the quality of cookware can affect the overall cooking experience and is manufactured by All Clad one of the best cookware manufacturers in the United States.

You can purchase either a traditional cast iron Dutch oven or a non stick Dutch oven depending on the Dutch oven cooking experience you are looking to have.

Emerilware Dutch ovens come with a lifetime guarantee against defects

These Dutch ovens comes in a 6 and 8 quart size making it possible to create a variety of Dutch oven dishes from soups to roasts in these handsome Dutch ovens.

The non stick Dutch oven has three non stick layers to help prevent scratching and peeling.

These Dutch ovens are designed and manufactured to last year after year and for daily cooking.

Emerilware Dutch ovens are manufactured in the United States.

You have the benefit of using the same cookware that a real celebrity chef uses in his own cooking for all kinds of international dishes.
During our research we visited many online vendors and discovered that the best prices are typically found on Amazon.