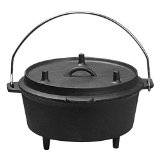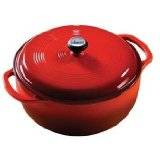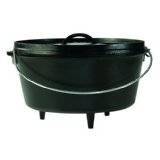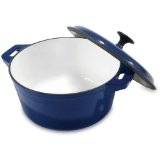 Emile Henry Dutch Ovens: A Buyers Guide
Emile Henry began a ceramic cookware company in France in 1850. He soon earned a reputation for making some of the best clay cookware that could be found anywhere in the world. Today, this family run company is still making fine clay cookware using their Ceradon state of the art process to produce this fine durable and extremely versatile cookware including their Dutch ovens.
Emile Henry Dutch ovens come in a wide variety of sizes from 8 ounce single serving Dutch ovens to 7 quart Dutch ovens and just about any size in between including 2.6, 4.2, 4.9, 5.5 and 6.3 quart Dutch ovens. This means regardless of how large or small your family or cooking needs may be there is a Dutch oven in just the right size for you.
Benefits Of Emile Henry Dutch Ovens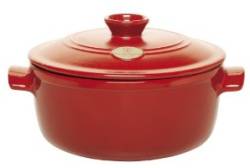 Emile Henry Dutch ovens have many benefits over traditional Dutch ovens. First, because they are made out of clay instead of metal they are lighter than most traditional Dutch ovens which makes them practical for cooks who have difficulty lifting heavy weight cookware. This cookware can also be used in every type of oven traditional, convection and microwave without worry about the cook ware becoming damaged.
Emile Henry Dutch ovens
also disperse heat evenly and hold heat longer than many metal Dutch ovens and the dots on the underside of the lids on these Dutch ovens insure that juices from the steam is dispersed evenly.
These Dutch ovens can go from the freezer, to the stove top or oven to the table without any bother and fuss and the great colored glazes make them ideal to use as serving dishes. If left on direct gas heat completely empty they won't discolor, break or crack and they are easy to clean and completely dishwasher safe.
Tips On Using Emile Henry Dutch Ovens
When deciding to purchase an Emile Henry Dutch oven
remember that these Dutch ovens do need to be seasoned before using. However, just as clay Dutch ovens are different from metal Dutch ovens the seasoning process is different as well. Instead of using the traditional seasoning of oil or shortening as you would for a cast iron Dutch oven, an Emile Henry Dutch oven is seasoned by simmering either milk or water and dry rice inside the Dutch oven. For exact seasoning instructions either check on the box of your Dutch oven or other Emile Henry cookware or visit their website.
You should also know that clay Dutch ovens are made of porous material which means that cooking anything acidic in them such as tomato sauce can leave behind a smell. To avoid this either make your tomato based sauces in a metal pan (preferably stainless steel) or soak your Emile Henry Dutch oven in water mixed with baking soda immediately after use, rinse well and if the odor is gone re-season.
Keep in mind that while your Emile Henry Dutch oven is perfectly safe in the dishwasher hand washing and drying any quality cookware helps it to retain it's looks.
What Makes Emile Henry Dutch Ovens A Good Deal?
One of the main things that makes any cookware a good deal is the quality of the craftsmanship that goes into the cookware and Emile Henry Dutch ovens
are crafted to meet the highest standards of quality. However, there is a lot more to these Dutch ovens than meets the eye.
Emile Henry Dutch ovens are convenient and easy to use going from the freezer to heat and then the table without missing a beat. They seldom discolor or won't break regardless of whether you are simmering or searing in them.

These Dutch ovens come in four beautiful colors red, black, figue and azure making them a great addition to almost any kitchen decor.

While this Dutch oven is not exactly inexpensive it is reasonably priced and since Emile Henry makes a variety of cookware your Dutch oven will match other cookware you have in your kitchen.

The finish on this cookware is almost indestructible meaning you don't have to worry about using certain types of utensils when cooking with this Dutch oven.

This cookware is easy to use and easy to clean and is both microwaveable and dishwasher safe.
Where To Buy Emile Henry Dutch Ovens
You can purchase Emile Henry Dutch ovens anywhere that quality cookware is sold. Many retail stores offer this cookware as well as a variety of online sites and the company's own website. For those looking for a great deal and a reduced price on an Emile Henry Dutch oven
then searching online for sales and special offers will often result in great savings on this incredible versatile Dutch oven. Of course Dutch ovens also make gifts so begin hinting now for Christmas, your birthday, mothers or fathers day and save even more money.
Summary Of Emile Henry Dutch Ovens
Emile Henry Dutch ovens are 30% lighter than most metal Dutch ovens making them the perfect Dutch oven for those cooks who have difficulty lifting heavy cookware.

These Dutch ovens are extremely versatile as they can be used in any type of oven and go immediately from the freezer to your range top or oven.

These Dutch ovens come in four exciting colors including red, black, azure and figue

Emile Dutch ovens are easy to clean and are dishwasher safe

These Dutch ovens are made by a company that is considered an expert in clay cookware and the name Emile Henry is highly trusted in the field of cookware

These Dutch ovens make handsome serving dishes as well as incredible cookware.

These Dutch ovens come in a variety of sizes making them perfect for the single person as well as a large family.
During our research we visited many online vendors and discovered that the best prices are typically found on Amazon.