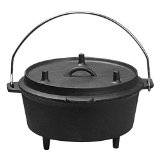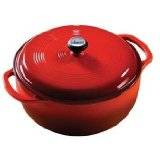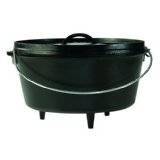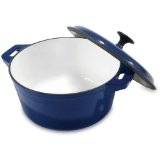 Enameled Dutch Ovens: A Buyers Guide
There was a time when most people could easily recognize a dutch oven because it was usually the only big black pot most people had, then came the aluminum Dutch oven and later stainless steel Dutch ovens appeared making these great cooking pots blend in a bit better with the other kitchen cookware. Finally, Enameled Dutch Ovens came along adding a festive touch to traditional Dutch oven cooking. Enameled Dutch ovens have some nice benefits, here are just a few.
Bright Colors Brighten Your Cooking Experience
Enameled Dutch Ovens come in a rainbow of colors, which means not only can you find a Dutch oven that matches your kitchen decor but having a bright cook pot may also brighten your mood. Enameled Dutch Ovens come in all sorts of colors including, white or cream, blue, red, gold, green, brown and even orange. Enameled Dutch ovens look great coming out of your oven or sitting on top of your stove and add a cheery feeling to your cooking experience.
Same Great Dutch Oven Cooking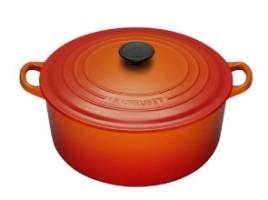 Enameled cast iron dutch ovens still have the same great heat distribution as the dutch oven your grandmother used but, without the hassle and with a great new look. The enamel coating on the outside of these dutch ovens adds a bright spot to kitchen and allows them to double as a beautiful serving dish in your dining room. The enamel coating on the inside of your enameled cast iron dutch oven means that it needs a little less tender loving care than a traditional dutch oven as it doesn't need to be seasoned and it can be washed with regular dish soap and water. In fact, most enameled cast iron dutch ovens are dishwasher safe.
Of course, they do need some care. You should never use sharp utensils with your dutch oven as this may scratch and eventually ruin the enamel. You should also preheat your dutch oven on medium heat for a couple of minutes before adding your food and liquids.
How And Where To Buy An Enameled Dutch Oven
Buying an enameled dutch oven
is really quite easy. Simply choose a company that has a reputation for making fine cookware that has an enameled Dutch oven for sale. There are several great companies to choose from and chances are good that you can even find an enameled Dutch oven made by your favorite cookware company.
Just be sure that when choosing an enameled Dutch oven you apply the same rules you would apply to buying a traditional Dutch oven. Make sure that all the sides are of even thickness, as this means that heat will be distributed evenly and look to make sure that the handles are strongly attached and the Dutch oven is well made.
Choosing an enameled dutch oven
will give you all the great tasting food Dutch oven cooking allows and will add a bright spot to your cooking experience. It also means that if the need arises your Dutch oven can go from the oven to the table and look attractive when doing so.
During our research we visited many online vendors and discovered that the best prices are typically found on Amazon.