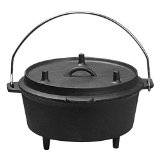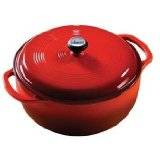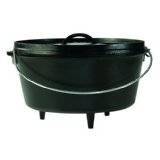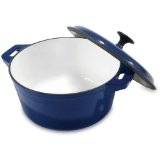 Essentials Tips on Dutch Oven Cooking
For fun and hassle-free cooking then a Dutch oven is the right choice of cookware for you. It has been in the market since the 1600's and still lucrative despite the modernization and technology of appliances. There is no question in regards with functionality of this cookware. If you don't have one yet, then what are you waiting for?
If this is your first to cook with a Dutch oven then these are few essentials tips that you might consider for you to have the best cooked meal:
A Dutch oven has an excellent heat retention so you need to watch carefully during the cooking process. Since it absorbs the heat fast you might want to lift the lid every time the steam comes out from the inside. Keep this in mind as you don't want to burn the food you are cooking. Make sure to decrease the fire once you notice that it is getting too hot. Nonetheless if you are boiling or baking then you can just set a time and wait until it was done without changing the amount of heat.
To see if your food is cooking evenly you can check and lift the lid from time to time since the Dutch oven has a hot spot where the side of food is cooking faster. But you can avoid this but rotating your cookware every other 15 minutes. These will allow you to have the heat spread all over the pot so that your food will cook consistently without burning some parts. For frying meal on breakfast like eggs, bacon and pancake you can simply use the lid of your Dutch oven as a pan. Just place it over the stove or fire upside down.

For simmering you can keep 2/3 of the briquettes or charcoals under the oven and use the remaining 1/3 to cover the lid; this will cook your food evenly that make it even tastier.

For baking techniques you just need to leave at least 1/3 or charcoals under your Dutch oven and place the remaining 2/3 to cover the lid. It will absolutely bake your breads, pies cakes and pastries much mouth-watering.

For better roasting of meat or vegetables you can place half of the briquettes or charcoals on top and put the other half below the Dutch oven.
These are some of the tips that will certainly help you with your Dutch oven cooking. Nevertheless make sure to have your other accessories for your cooking. Leather gloves will keep you from burns so make sure to have a pair. Long handled tongs are necessary for moving the charcoals tool and lid lifting tool so you won't get hurt.
Enjoy your cooking time with cast iron Dutch oven and get rid of that messy and stressful food preparation. Have a healthy and delicious meal anytime of the day.