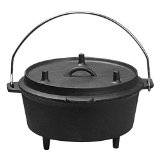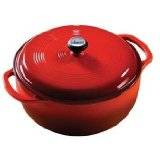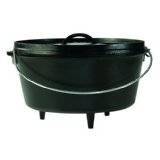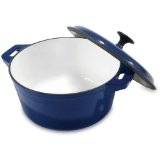 FancyCook Dutch Ovens: A Buyers Guide
The FancyCook company is a California based manufacturing company that wholesales various ranges of enameled cast iron cookware. They offer a wide variety of different types of cookware at reasonable prices. Their enameled cast iron Dutch ovens are no exception as they come in a wide variety of sizes and colors and are sold in both round and oval shape.
One of the first things most consumers notice about the FancyCook Dutch ovens is the rich vibrant colors of these cooking pots. The company proudly offers ten colors including several two tone color shades that look attractive in the kitchen or on the dining room table. These colors include: white, blue, red, green, two tone green, yellow, two tone blue, two tone red, brown and black.
If the variety of colors of these Dutch ovens is impressive then the various sizes of these Dutch ovens is absolutely amazing. The round Dutch ovens come in 2 ?, 4 ?, 5, 5 ½, 7 ½, and 10 quart versions while the oval Dutch ovens (also known as French ovens) come in 3 ?, 4, 7, 8, and 9 1/2 quart versions. This means that regardless of how large or how small your family or Dutch oven cooking needs may be there is a Dutch oven size and color that is sure to match your needs.
Benefits of FancyCook Dutch ovens
FancyCook Dutch ovens
have many advantages over the traditional cast iron Dutch ovens, while retaining the weight and the even heat distribution that traditional cast iron Dutch ovens have become known for. Some of the advantages of FancyCook Dutch ovens include:
You don't have to season these Dutch ovens. Since the enamel finish is what you cook on instead of the cast iron the only work that you are required to do to get your new Dutch oven ready for use is to wash it with hot soapy water and remove all labels.

These Dutch ovens go from the freezer (that's right you can freeze enameled cast iron) to the stove top or oven to the table without having to wait for the Dutch oven to reach room temperature before placing it on the heat.

Because FancyCook makes an entire range of enameled cookware your Dutch oven can match your entire set of kitchen cookware.

Although it is recommended that you hand wash your Dutch oven to help it retain it's colorful new appearance this cookware is dishwasher safe as the enamel finish protects the cast iron interior from rusting.

These Dutch ovens are attractive enough to be used as serving dishes which means that you have less dishes to wash.

The enameled cooking surface of the FancyCook Dutch ovens means that food is less likely to stick and clean up is a real snap.
Tips on Using FancyCook Enameled Dutch ovens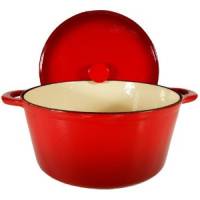 The first thing to remember is that while these Dutch ovens are durable and well made the enamel will chip if your Dutch oven is dropped or banged with a heavy utensil so take care not to bang or damage the enamel finish of your Dutch oven.
When using your FancyCook Dutch oven remember not to slide your Dutch oven across your cooking surface as this could scratch the finish. Lift your Dutch oven up if you need to reposition it. Please, remember that the entire Dutch oven gets hot including the handles so make sure that you always use hot pads or mitts when lifting a hot Dutch oven.
To prevent your food from bubbling over the outside of your Dutch oven it is best to make sure that food and fluids together only fill the Dutch oven 2/3 full.
When cleaning your FancyCook Dutch oven
washing it in hot soapy water by hand and immediately drying it with a soft towel will keep it looking new much longer than cleaning it in the dishwasher. To make it easier to clean your Dutch oven should some food stick allow some soapy hot water to sit for a period of time before washing.
Buying Your FancyCook Dutch Oven
FancyCook cookware is sold at a variety of kitchen retail stores both in locations near you and online. When shopping online for one of these Dutch ovens take the time to comparison shop as competition in these online stores are fierce and you can often find great deals at incredibly low prices.
Summary Of The FancyCook Dutch Oven
FancyCook Dutch ovens are enamel coated cast iron Dutch ovens which means that you get the great even heat distribution that cast iron is known for without the hassle of seasoning and special attention to cleaning.

These Dutch ovens come in an incredible variety of colors and sizes and in both round and oval shapes. Making it possible for you to find a Dutch oven in the size, style and color you prefer.

A FancyCook Dutch oven can be used on any cooking surface and are oven safe up to 400 degrees Fahrenheit.

These Dutch ovens will not only allow you to try any Dutch oven cooking recipe your heart desires but, will look great with both your kitchen and dining room decor.

These Dutch ovens can go from the freezer to the stove top to table.

A FancyCook Dutch oven is easy and convenient to use and clean and is extremely durable.
During our research we visited many online vendors and discovered that the best prices are typically found on Amazon.