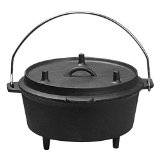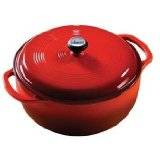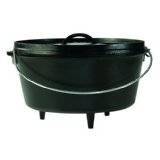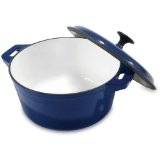 Josef Strauss Dutch Ovens: A Buyers Guide
Josef Strauss is the brand name of cookware designed by the Orly trading company which was founded in 1993. Although the company designs it's cookware and decides on the materials to be used, it out sources the manufacturing of it's cookware to several different manufacturing companies. The company has a good reputation and is known for it's quality cookware at reasonable prices and for having one of the best product guarantees in the market. The Josef Strauss Dutch ovens are enameled cast iron and sell under the product name Le Cuistot Dutch ovens by Josef Strauss.
Josef Strauss Dutch ovens come in a variety of colors including two different shades of two tone blue, two tone red, white, fashion green, matte black, and terracotta. They also come in a variety of sizes such as 2.5, 4, 4.75, 5.25. 7, 8, 8.5, and 11 quarts. These Dutch ovens come in either round or oval shape. The variety of color and sizes of the Josef Strauss Dutch ovens makes them a favorite with many consumers because they can customize their Dutch oven cooking to their family size and their home decor.
Benefits of Josef Strauss Dutch Ovens
There are many benefits to the Le Cuistot Dutch ovens
by Josef Strauss starting with the length of time this company has been in business. No company stays in business unless its products are well made and of good quality and this is certainly true of these Dutch ovens. But there is a lot more benefits to these Dutch ovens than just quality workmanship.
These well made Dutch oven offers all the benefits of cast iron cooking with none of the inconvenience. You get even distribution of heat, the weight of a great cooking pot, combined with the ease of use of the enamel finish. There is simply no seasoning needed for these Dutch ovens to deliver great tasting meals.

Josef Strauss dutch ovens can go straight from the freezer to the oven or stove top without first having to bring your Dutch oven to room temperature and because of the rich looking enamel coating you can serve dinner right in your Dutch oven. There is no need to dirty a separate dish for serving your dinner unless you want to. You can pop any left overs right into the refrigerator in the very same Dutch oven.

These Dutch ovens are also easy to clean. Enamel cooking surfaces are naturally non stick which means in most cases you won't need to spend a lot of time scrubbing or soaking these Dutch ovens. You can normally just wash them with hot soapy water and a soft sponge or dish cloth.
Tips On using Le Cuistot Dutch Ovens by Josef Strauss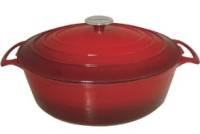 While using a Josef Strauss Dutch oven is convenient and simple there are a few tips that will make using one of these Dutch ovens even easier. When cooking in one of these Dutch ovens take 2 minutes to preheat the Dutch oven on medium heat before adding the food or liquid to the Dutch oven. This will help the cast iron core distribute the heat more evenly through out the entire cooking process. While you might want to sear meat using high heat, remember that this Dutch oven will cook food that is more tender if you do the majority of your cooking on a low to medium heat. There will also be less chance of sticking.
When cleaning your Josef Strauss dutch oven
don't use a metal scrubber or scrape with a sharp implement as this will ruin the enamel and shorten the life of your Dutch oven. Remember with proper care this Dutch oven will last you for years and years and may even become a family heirloom.
What Makes A Josef Strauss Dutch Oven A Good Deal
One of the things that makes Josef Strauss dutch ovens a good deal is the price. This is a quality Dutch oven at a very reasonable price making it affordable to more people than some other brands

The limited lifetime guarantee of this Dutch oven also makes it a good deal as not only are you dealing with a company that has a reputation for quality but, is also willing to back it up with a great guarantee.

The variety of colors and sizes makes these Dutch oven attractive to families of all sizes.
Where To Buy A Josef Strauss Dutch Oven
Josef Strauss cookware is becoming increasingly popular in the United States and many kitchen retail stores offers this cookware including various sizes of the Josef Strauss Dutch ovens. However, if you can't find the right color or size of Dutch oven you want or if you are simply looking for a great deal on one of these Dutch ovens then try shopping online. There are a variety of online shops that carry Josef Strauss Dutch ovens and with a little effort you can find the perfect Dutch oven for you.
Summary Of Josef Strauss Dutch Ovens
Josef Strauss dutch ovens are designed by a company who has 17 years of experience in designing quality cookware.

These Dutch ovens come in a variety of sizes, colors and two distinct shapes.

They are convenient to use and easy to clean.

These Dutch ovens can go from the freezer, to oven, to the table, to refrigerator without any hassle or fuss.

Great designer colors means Josef Strauss Dutch ovens will match almost any kitchen decor.
During our research we visited many online vendors and discovered that the best prices are typically found on Amazon.