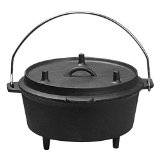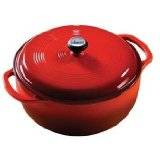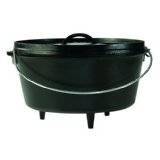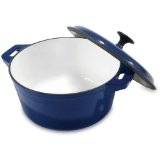 Kalua Pork
Over the years, we have amassed a large collection of Dutch oven recipes, and we enjoy sharing them with others who appreciate this form of cast iron cooking. The popularity of Dutch oven cooking has increased greatly over the past several years as many people discover the benefits of using these cast iron pots and associated pieces of cast iron cookware. Most of our recipes can be used for indoor cooking in your oven or outdoors in a more traditional campfire setting.
Great recipe very easy and without many ingredients but the flavor is quite impressive that you would want and ask for more. Best served with open-faced sandwiches over French brioche with the Mustard Based BBQ sauce; completely delish!
Ingredients:
3 pounds pork butt roast
1/4 cup Hawaiian sea salt
1 teaspoon liquid smoke flavoring
2 cups water
Cooking Instructions:
Prep time: 5 minutes
Cooking time: 3 hours
Cooking Steps:

Pre-heat the oven to 400 degrees F.

Using a Dutch oven casserole or roasting pan put the pork fat-side up

Mix the liquid smoke and water then pour into the meat. Season with salt.

Cover and let it roast for about 3 hours.

Remove and let it cool before shredding.
Our Dutch oven recipes are primarily used with cast iron dutch ovens
, but you may also use them with aluminum dutch ovens
or enameled dutch ovens
. If you are new to dutch oven cooking, we recommend you consider buying cookware made by a reputable manufacturer such a Lodge, Le Crueset, Staub, All-Clad, Mario Battali, Calphalon and Emerilware. We check prices regularly for dutch ovens and by far the best prices have always been found at Amazon
.