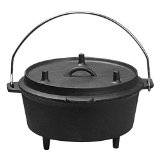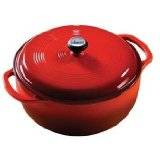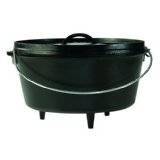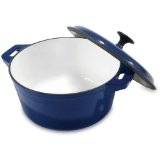 Le Creuset Dutch Ovens: A Buyers Guide
Le Creuset is a French manufacturing company that has been making colorful, durable and high quality round and oval enameled cast iron Dutch ovens (though technically oval shaped cooking pots are French ovens) since 1925. Their cast iron Dutch ovens are created in the usual way and then coated inside and out with layers of enamel.
You can find Le Creuset Dutch ovens
in a variety of sizes. Their round Dutch ovens come in 5.5, 7.25, 9 and 11.25 quarters while you can purchase one of their oval Dutch ovens in either the 5 or 15.5 quart size. As can be expected these Dutch ovens have the weight and durability of normal cast iron Dutch ovens but, come in a wide variety of beautiful colors.
Le Creuset Dutch Oven Benefits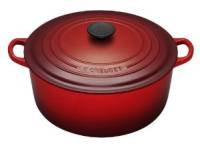 The Le Creuset Dutch oven offers many benefits. The cast iron core provides for even distribution of heat, while the enamel finish makes it possible for this Dutch oven to go from the freezer, to the cook top or oven and then to table without worrying about metallic tasting food or cracking during cooking.
There is no need to season a Le Creuset Dutch oven as the cooking surface is the enamel not the cast iron. This also means that these Dutch ovens can be washed in soapy water and in fact are even dishwasher safe. Their bright colored enamel also makes Le Creuset Dutch ovens a bright spot in the kitchen or on your dinning room table.
Tips For Using A Le Creuset Dutch Oven
When using an enameled cast iron Dutch oven you should never slide the Dutch oven over the hot stove burner but rather lift it up and move it. You should also preheat enameled cookware for 2 minutes or so on medium heat before placing the food inside. This will add to the even cooking of your meat. Because of the even distribution of heat in an enameled cast iron Dutch oven the handles do get hot so make sure you always use a hot pad when handling a Le Creuset Dutch oven
.
Don't use sharp implements inside your Dutch oven as this may scratch the enamel surface and never let a gas flame extend up the sides of the enamel finish as it may discolor the enamel permanently.
When it comes to cleaning your Le Creuset Dutch oven
it couldn't get much easier as these Dutch ovens often simply wash right out with soap, water and a soft cloth. They are dishwasher safe but hand washing will help to keep your Le Creuset Dutch oven looking new longer.
What Makes Le Creuset A Good Buy?
If you enjoy Dutch oven cooking and like the weight and the even heat distribution of traditional cast iron but, hate all the extra special care that traditional cast iron Dutch ovens require then the Le Creuset Dutch oven may be just what you are looking for. There are many things about these Dutch ovens that make them a good buy and an added attraction for your cooking pleasure.
They are manufactured by one of the leading names in Dutch oven manufacturing making them a name you can trust. Combine that with their lifetime guarantee and you have a durable Dutch oven that you can depend on.

The various sizes in these Dutch ovens makes them a good deal for families of various sizes who enjoy cooking just about everything and anything in their Dutch ovens.

Though somewhat pricey, these Dutch ovens are both durable and reliable making them worth every penny over the long haul.

Food does not stick to the Le Creuset Dutch ovens and no seasoning is required before use. Simply wash them in warm soapy water and they are good to go.

Due to the wide variety of colors in these Dutch ovens they will brighten and harmonize with almost any kitchen or dining room decor.
Buying Tips For Le Creuset Dutch Ovens
Le Creuset Dutch ovens are very popular around the world including the United States which means, these Dutch ovens are actually quite easy to find any place where quality cookware is sold. While many local kitchen stores carry Le Creuset Dutch ovens those looking to purchase these beautiful Dutch ovens at a discounted price would do better to comparison shop online and watch for sales at the Le Creuset website. Finding the best deal possible on these Dutch ovens will enhance your enjoyment in using this special cookware.
Summary Of Le Creuset Dutch Ovens
Le Creuset Dutch ovens are made by a company who manufactures only one thing, high quality Enameled French and Dutch ovens. It is also a familiar name in Dutch ovens and a name you can trust.

These Dutch ovens come in a variety of sizes, shapes and colors making them perfect for almost any kitchen or dining room decor or any family size.

These Dutch ovens can go from freezer, to stove top or oven to table to dishwasher without worry or concern.

These Dutch ovens can be used on any type of cooking surface.

They don't need seasoning as the inside as well as the outside is enameled.

Le Creuset Dutch ovens have a practically stick free surface yet you can sear meat easily in them.

These Dutch ovens are a great choice for people who like the even heat distribution of cast iron but, don't have the time or the inclination for the special care that these Dutch ovens require.
During our research we visited many online vendors and discovered that the best prices are typically found on Amazon.