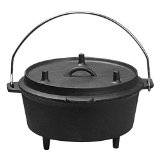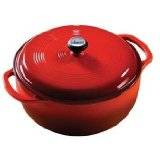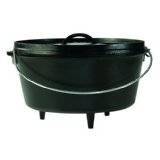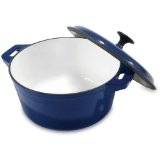 Lodge Dutch Ovens: A Buyers Guide
Over 100 years ago in the mountains of Tennessee the Lodge family began what was to become the World's largest manufacturer of Cast Iron cookware. Some of that original cookware is still handed down from generation to generation of cooks. While all of this companies fine cookware continues to have a time honored place in many homes, their cast iron Dutch ovens have a special place in the homes and the hearts of the American people.
Despite all the technological advances in metal making that the last century has brought there is still nothing that can rival the even heating and durability of cast iron cookware. Knowing this the Lodge Cast Iron company has continued to make their Dutch ovens in the traditional manner as their forefathers while also moving forward to embrace some of the newer technology available today. Lodge Dutch ovens can be found in the original 3 legged style which the company sells under the name of camp Dutch ovens, as well as flat bottomed Dutch ovens and enamel coated Dutch ovens.
Benefits of Lodge Dutch Ovens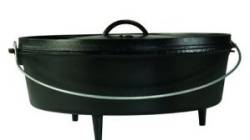 Lodge Dutch ovens offer many benefits for people who enjoy or want to try Dutch oven cooking. Not only are their products widely sold but, their reputation is tried and true and because this company has been making durable cast iron cookware for so long, people who shop for reliable cast iron often choose companies they have confidence in.
People who have grown up with their family's Lodge cast iron products know first hand how functional and well made these Dutch ovens are.
Price is often another consideration when purchasing cookware and with today's economy the fact that Lodge offers cast iron Dutch ovens at a fraction of the cost that other companies do, makes these Dutch ovens even more appealing.
Lodge Dutch ovens
also offers consumers a choice. For those people who enjoy the out of doors and want to cook everything and anything on their camping trips, Lodge's three legged camp Dutch oven is the perfect cooking utensil to bring along. Their flat bottomed cast iron Dutch ovens are perfect for home use, while their enameled cast iron Dutch ovens are perfect for those who want the benefits of cast iron without the effort required to keep their cast iron in top condition.
In addition, Lodge Dutch ovens
come preseasoned taking much of the work out of the seasoning processes. Lodge Dutch ovens also come in various sizes including 3, 4, 5, 7, and 9 quart. This means that there is the perfect size Dutch oven for every size family.
Tips on Using Lodge Dutch Ovens
Lodge Dutch ovens come pre seasoned, therefore when purchasing a new Lodge Dutch oven you should wash it well in hot water using a clean soft sponge and rag and then immediately dry it by hand, oil it lightly with canola oil and it is ready to go.
Each time before cooking with your cast iron Dutch oven you should lightly oil it as well. (Keep in mind that this oiling is not necessary for the enameled Dutch ovens as the enamel protects the cast iron interior.)
Cast iron should never be washed in soapy water nor put in the dishwasher. After every use your cast iron Dutch oven should be hand washed in hot water, dried immediately with a towel and oiled.
Due to the heating ability of cast iron you should never cook on high heat except for searing meat. Your food will cook quickly on low to medium heat in a cast iron Dutch oven and be tender as well.
What Makes Lodge Dutch Ovens A Good Deal?
Lodge Dutch ovens have stood the test of time, lasting 3 and 4 generations. They are well made and durable.

Lodge Dutch ovens are extremely cost effective, selling for less than many other leading brands while maintaining high quality

These Dutch ovens comes in various sizes and styles including three legs, flat bottoms, and enameled. For those who think that cast iron Dutch ovens can't be attractive Lodge offers a signature series that offers Dutch ovens that are well made and sophisticated.

Lodge's enameled Dutch ovens comes in a variety of colors including patriot red, liberty blue, apple green, Caribbean blue, Island Spice red, emerald green and cafe brown.

These Dutch ovens are American made.
Where To Buy Lodge Dutch Ovens
Lodge Dutch ovens
are sold almost anywhere that cast iron cookware is sold. You can find these Dutch ovens in various retail stores, order one or more from the company itself or shop for them online. With their reasonable price, there is no need to look for sales on these Dutch ovens although, shopping for one on sale will result in even more savings.
Summary of Lodge Dutch Ovens
Lodge is one of the largest manufacturers of cast iron cookware in the World making finding a Lodge Dutch oven simple and easy as they are extremely popular.

These Dutch ovens come in a variety of sizes and are designed for both outdoor and indoor cooking.

Lodge offers traditional cast iron Dutch ovens, enameled Dutch ovens and their attractive signature series giving consumers a choice.

Lodge Dutch ovens are made in the United States for those shoppers who want to buy American products.

These Dutch ovens sell for an extremely reasonable price and are known for lasting generation after generation.

The Lodge enameled Dutch ovens comes in a variety of colors and can go from the freezer, to the stove top or oven, to the table with ease.
During our research we visited many online vendors and discovered that the best prices are typically found on Amazon.