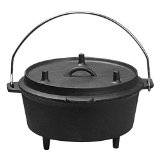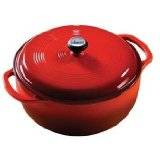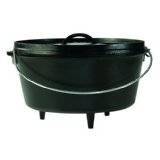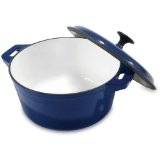 Mario Batali Dutch Ovens: A Buyers Guide
Mario Batali is a chef who certainly knows a thing or two about cooking and his specially designed cookware is designed with great cooking in mind. Manufactured by Copco, Mario Batali cookware is elegant, refined and highly functional. His Enameled cast iron Dutch oven is sold as an Essential pot, and for those who enjoy Dutch oven cooking this pot is indeed essential, combining beauty and functionality in a great piece of cookware.
The Mario Batali Dutch oven/essential pot comes in two great sizes 4 quart and 6 quart and a variety of colors. They are also bear a price tag that makes these Dutch ovens extremely attractive for many consumers.
Benefits of Mario Batali Dutch Ovens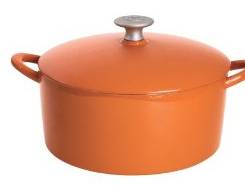 Mario Batali Dutch ovens are made from heavy duty cast iron and coated with a ceramic enamel inside and out that makes them easy to use whether you are a beginning cook or a world renown chef. The bright colors of these Dutch ovens are sure to brighten up your kitchen and your entire Dutch oven cooking experience.
These Dutch ovens look as attractive in the dining room as they do in the kitchen and go from the freezer, to the oven or stove top, to the table, to the dishwasher with ease. However, in order to keep your Mario Batali Dutch oven looking as good as possible for as long as possible it is best if you wash it by hand using a soft cloth and hot soapy water.
The price is another benefit of Mario Batali Dutch ovens as these ovens sell for less than many other brands and still deliver a great cooking experience and durability.
Tips On Using Mario Batali Dutch Ovens
After purchasing a Mario Batali dutch oven
you should immediately remove all stickers and wash your new Dutch oven in hot soapy water and dry it with a towel. While air drying won't harm your Dutch oven it will leave water spots and by drying your Dutch oven in the oven it will look sparkling new.
When preparing food in your enameled Dutch oven it is best to set your Dutch oven empty on medium heat for 2 minutes and then add your food and liquids. This will preheat your Dutch oven and will result in a better overall cooked meal. You also want to make sure that once all your ingredients are added that your Dutch oven is only 2/3 full. This will eliminate the possibility of liquid bubbling over the sides which can make clean up of both your Dutch oven and your stove more difficult.
Remember that the cast iron interior of your Dutch oven both distributes heat evenly and retains heat extremely well so, except for searing meat, you won't want to cook on high heat when using your Dutch oven. Most times low heat will cook your meals sufficiently quickly while keeping it moist and making it taste better.
Always use hot pads when handling a Dutch oven as the heat distribution also includes the handles and when removing your Dutch oven from a stove burner or the oven lift it don't drag it as dragging it can scratch the enamel shortening the useable life of your enameled Dutch oven.
What Makes Mario Batali Dutch Ovens a Good Deal?
The Mario Batali name. When a chef puts their name on a cookware line they are also putting their entire reputation on the line. Since their entire livelihood depends on their knowledge of fine food preparation no chef would willingly allow their name to to be used in association with any Dutch oven that did not perform well.

Overall design of this Dutch oven. Elegant and functional these Dutch ovens look as good on the dining room table as they perform on your range top or oven.

Easy to clean. The easier cookware is to clean the less time cooks spend in the kitchen.

These Dutch oven are a great value. In today's economy anytime you find a quality product at a reasonable price you have to feel you are getting a great deal.

Mario Batali dutch ovens

are a great product at a good price.

These Dutch ovens match other Mario Batali cookware so that they will fit right in with the other cookware in your kitchen.
Where To Buy A Mario Batali Dutch Oven
Mario Batali Dutch ovens can be found in almost any retail store that handles quality kitchen cookware. You can also purchase one or more of these Dutch ovens online at various Online businesses and have your new Dutch oven delivered right to your door. Shopping online gives you a great opportunity to both comparison shop and to find a Mario Batali Dutch oven at a discounted price.
Summary Of Mario Batali Dutch Ovens
Mario Batali Dutch ovens are sold as essential pots. They are manufactured by Copco a division of Wilton which has long been a leader in the manufacturing of quality bake ware for homes and the service industry.

These Dutch ovens combine elegance with functionality. They are easy to use, easy to clean and go from the freezer, to the oven, to the table, to your dishwater without missing a beat. The bright color choices in these Dutch ovens makes them as perfect to serve food in as it is to prepare food in.

These Dutch ovens come in 2 sizes 4 and 6 quart.

Mario Batali Dutch ovens are reasonably priced and durable.
During our research we visited many online vendors and discovered that the best prices are typically found on Amazon.