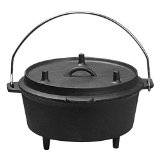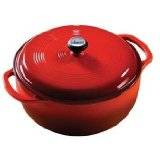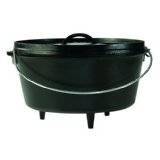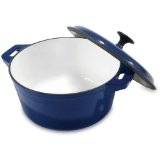 Rachel Ray Dutch Ovens: A Buyers Guide
The name Rachel Ray is almost instantly recognizable to most people as her food show attracts millions of viewers, her cookbooks sell like hot cakes and her bright colored cookware is sought after on an almost daily basis. One of the things that makes her cookware so popular is the fact that it bears her name however, it is also popular because it is manufactured by Anolon one of best known manufacturers of durable modern cookware. So it is little wonder that Rachel Ray's Dutch ovens (casserole pans) sell incredibly well.
Rachael Ray Dutch ovens
are designed to be both attractive and functional. You can purchase her Dutch ovens in two different materials either enameled cast iron or anodized aluminum with a non stick interior. Her enameled Dutch ovens feature even heat distribution, enameled surface and silicone enhanced lid locks. They also come in vibrant colors such as orange, blue and green. The pot itself is oven safe up to 500 degrees Fahrenheit and the lids are oven safe up to 350 degrees Fahrenheit.
Her hard anodized Dutch ovens feature a non drip interior, dripless pouring, easy grip silicone handles that are oven safe up to 400 degrees Fahrenheit and tempered glass lids.
Benefits Of Rachel Ray Dutch Ovens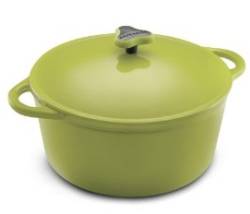 The Rachel Ray Dutch ovens come in three sizes, 3.5, 5.5, and 7 quarts. The enameled Dutch oven gives you a choice of three vibrant colors sure to make your Dutch oven cooking experience just a little brighter.
These Dutch ovens can go from oven or stove top to the table and look great in both your kitchen and on your dining room table. They don't need to be seasoned and they clean up easy with just soap and water.
Either the hard anodized or the enameled cast iron Dutch oven is perfect for the the person who enjoys Dutch oven cooking but, wants hassle free clean up and best of all the Rachel Ray Dutch oven is quite inexpensive when compared to other quality Dutch ovens of the same size.
Tips On Using Rachel Ray Dutch Ovens
It is recommended when cleaning a Rachael Ray Dutch oven
you wash them by hand. This is really quite simple because under most conditions all you need is a hot soapy water and a soft sponge or cloth. On the rare occasion that food should stick to the enameled Dutch oven, usually soaking in hot soapy water for a few minutes loosens the stuck food. If it does not, try putting it back on the stove with a mix of hot water and vinegar, bring it to a boil and then simmer it for a few minutes and any stuck food should wash right out.
When cooking with Rachael Ray Dutch ovens
do not use metal or sharp utensils to stir the food. Silicone or wooden utensils work best and in fact Rachel Ray Dutch ovens have utensils to match their enamel Dutch ovens.
When removing the enameled Dutch oven from the stove or oven always use hot pads or oven mitts, the heat distribution includes the handles which can get incredibly hot. You should also use hot pads when removing the hard anodized Dutch oven from the heat as well.
In order to get the best and longest use possible from your Rachel Ray Dutch oven make sure you follow all directions that comes with the Dutch oven.
What Makes Rachel Ray Dutch Ovens A Good Deal?
There are several things that makes Rachel Ray Dutch ovens a good deal. Here are just some of the things that makes this cookware special.
The bright colors of

Rachael Ray Dutch ovens

makes cooking fun and cheery. It's hard to be bored when cooking in a Dutch oven that has such bright colors.

Reasonably priced making this Dutch oven affordable even to those on a budget.

You can choose between an enameled cooking surface and non stick cooking surface

A Rachel Ray Dutch oven carries the manufacturer Anolon's limited lifetime warranty.

There are other reasonably priced Rachel Ray cookware so your Dutch oven can match your other kitchen cookware.
Where To Buy Rachel Ray Dutch Ovens
You can purchase a Rachael Ray Dutch oven
from any retail store that sells Quality cookware. Since it is a popular brand it is carried by a wide number of companies. You can also get Rachel Ray Dutch Ovens at various online sites and stores as well as ordering a Dutch oven directly from her website. Taking the time and looking for sales can result in your owning a Rachel Ray Dutch oven at a lower than normal price which would be a good deal indeed.
Summary Of Rachel Ray Dutch Ovens
Rachel Ray cookware bears the name of the popular chef and cookbook author Rachel Ray

Anolon a company known for it's own durable and functional cookware manufactures the Rachel Ray Dutch oven as well as her other cookware.

You can purchase either an enameled cast iron Dutch oven or a hard anodized Dutch oven with a non stick interior.

Rachel Ray enameled Dutch ovens come in vibrant colors

You can buy one of these Dutch ovens in 3.5, 5.5, or 7 quart size

A Rachel Ray Dutch oven comes with a limited life time warranty.

These Dutch ovens are reasonably priced.

During our research we visited many online vendors and discovered that the best prices are typically found on Amazon.