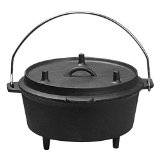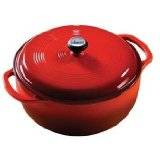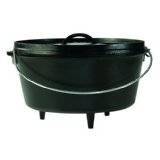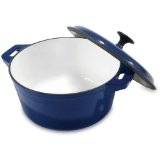 Roast Turkey Breast with Garlic Sauce
Dutch oven cooking is as popular now as it was centuries ago and today's cooks have discovered that this type of cookware is capable of producing an amazing array of delicious meals. We have collected many Dutch oven recipes over the years and we hope you will use them to create some great meals for your family and friends.
If you are looking for a recipe that is low in fat and cholesterol then this turkey dish is one of it, cook like a top and chef and give your whole family a treat by serving this delightful and delectable roasted turkey.
Ingredients:
1 turkey breast on the bone, about 2 kg
2 teaspoons lemon juice
15 garlic cloves, unpeeled, lightly crushed to break the skins
350 ml salt-reduced chicken stock
3 tablespoons olive oil
1/4 teaspoon freshly ground black pepper
Cooking Instructions:
Prep time: 20 minutes
Cooking time: 2 hours
Cooking Steps:

Pre-heat the oven to 356 degrees F.

Trim off the fat from the turkey then put the turkey skin side up in a Dutch oven.

Brush the oil over the breast then season with half of the pepper.

Cover loosely with foil and roast for about 45 minutes.

Remove the foil and spread out the garlic cloves around the turkey, coating them with the pan juices then continue to roast, uncovered for 1 ? hours more.

Remove the skin then transfer the turkey into a platter, cover with foil and keep warm.

Discard the fat from the roasting pan, leaving the pan juices then using a spoon; squeeze the garlic cloves from their skins into the pan.

Put the roasting pan over medium heat then add 1/3 of the stock and cook until bubbly.

Using blender or food processor puree the mixture until smooth then return to the pan and bring into a boil.

Add the remaining stock, lemon juice and pepper then let it simmer for about 3 minutes.

Slice the turkey and serve with the garlic sauce.
Our Dutch oven recipes are primarily used with cast iron dutch ovens
, but you may also use them with aluminum dutch ovens
or enameled dutch ovens
. If you are new to dutch oven cooking, we recommend you consider buying cookware made by a reputable manufacturer such a Lodge, Le Crueset, Staub, All-Clad, Mario Battali, Calphalon and Emerilware. We check prices regularly for dutch ovens and by far the best prices have always been found at Amazon
.