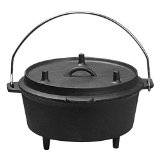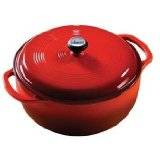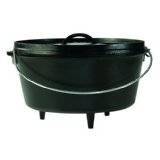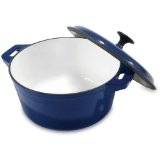 Staub Dutch Ovens: A Buyers Guide
The Staub company opened it's doors as a cookware store in Alsace, France in 1892. Eighty years later the company purchased a cast iron plant and began designing and making their own cast iron cookware. Today, Staub is a leading manufacturer of cast iron cookware in France and this company's cookware is used by chefs around the world today who herald this cookware for its mixture of traditional and modern technology which has resulted in some of the best cookware in the world. Their Dutch ovens are no exception.
Staub makes both traditional cast iron Dutch ovens and more modern enameled cast iron Dutch ovens. Their enameled cast iron Dutch ovens come in a variety of rich colors making them suitable for going from the oven or stove top to the dining room table. Staub Dutch ovens come in various sizes including 2.5, 4, 5.75, 6.5. and 8.8 quart sizes.
Benefits of Staub Dutch Ovens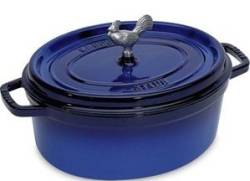 Each piece of Staub cookware is personally designed by Francis Staub making your Dutch oven truly one of a kind which is something quite rare in this cookie cutter world we live in today. In addition a Staub Dutch oven uses brass or nickel knobs which means their knobs can withstand higher heat than can most Dutch oven knobs on the market today.
The lids to these Dutch ovens fit tightly onto the pan helping to lock in moisture and the lids also contain self basting spikes on their insides that ensure even basting to whatever you are cooking. The enameled Dutch oven is enameled inside and out and has a double coat of enamel to help ensure that your Dutch oven lasts for years to come with proper care.
Cast iron Dutch ovens provide the most even heat distribution of any metal used in cookware today and the enamel Dutch oven also makes for easy clean up as well as perfect Dutch oven cooking over low heat.
Tips On Using A Staub Dutch Oven
After purchasing a Staub cast iron Dutch oven immediately wash it in warm soapy water and then follow the directions that come with your Dutch oven for properly seasoning it. By following the seasoning directions your Dutch oven will have a more non stick surface making clean up easier as well as providing for better tasting Dutch oven meals.
When you purchase a Staub enameled cast iron Dutch oven no seasoning is necessary so simply wash with hot soapy water, rinse and dry and you are ready to start cooking.
Never use sharp utensils on your Dutch oven surfaces as this can scratch through the seasoning or cut through the enamel which will result in rust spots and a shorter life span for your Dutch oven.
Always remember that Staub Dutch ovens
are designed for and cook best on low heat so don't use your Dutch oven on high heat except for brief periods when searing meat.
What Makes Staub Dutch Ovens A Good Deal?
One of the things that makes a

Staub Dutch oven

a good deal is the entire manufacturing process. Francis Staub designs each Dutch oven. It is then tested and then a sand mold is made and the Dutch oven is created and checked to make sure that it is flawless in both design and function.

Cast iron cookware is the best cookware for even distribution of heat and Staub's Dutch ovens whether the traditional or the enameled Dutch oven begins with the traditional cast iron process.

The use of the brass and nickle knobs on the lid allows you to use the tight fitting lid in your oven without worry about the knob melting.

The self basting spikes on the inside of the lids means that your food will come out more moist and tender without you having to continually do hand basting.

These Dutch ovens are designed to last years when properly cared for, meaning that may not only allow you to cook wonderful Dutch oven meals for your family but, may become a family heirloom your children may use in preparing meals.

Since Staub makes entire sets of cast iron cookware and even some cast iron serving dishes your Dutch oven will match your other kitchen cookware.
Where To Purchase A Staub Dutch Oven
You can purchase a Staub Dutch oven
from any retail store that sells high quality cookware. You may also find this cookware at various online sites and can purchase it from the company itself. Although Staub Dutch ovens are worth every penny, they are quite expensive so, taking the time to comparison shop online may allow you to find a Staub Dutch oven at a reduced price which will allow you to own this wonderful piece of cookware while saving a little money.
Summary Of Staub Dutch Ovens
Staub Dutch ovens are manufactured in France and each Dutch oven is personally designed by Francis Staub himself.

Staub Dutch ovens as well as other Staub cookware are used by some of the World's best chefs.

The enameled Dutch ovens come in 6 vibrant colors and are easy to clean and to use.

You can purchase a Staub Dutch oven in a variety of sizes making it the perfect choice no matter how large or small your family may be.

These Dutch oven lids have either brass or nickle knobs which allows them to withstand higher temperatures than most other knobs. The lids also fit tightly to the Dutch oven and have self basting spikes that helps to make the meat and vegetables more tender.
During our research we visited many online vendors and discovered that the best prices are typically found on Amazon.