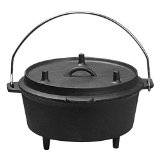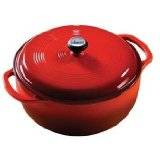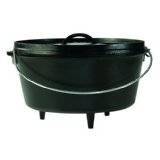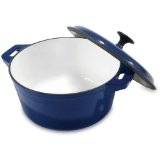 Tramontina Dutch Ovens: A Buyers Guide
Tramontina is a Brazilian based company with affiliates in several other countries including the United States. This company is known for it's handsome, functional and extremely durable low priced cookware that rivals most of the high end cookware brands in form and function. They make a variety of cookware including enameled cast iron, 18/10 stainless steel and hard anodized. Their biggest single selling product is their Dutch oven regardless of which material it is made out of.
Tramontina Dutch ovens
in a variety of sizes including 3.5, 6.5 and 7 quart. Their Dutch ovens come in both stainless steel and enameled cast iron. The enameled cast iron Dutch ovens are cheery and colorful. If there is one problem with Tramontina Dutch ovens it is their popularity. While these Dutch ovens are offered everywhere from retail cookware shops to discount stores like Walmart, they are difficult to keep on the shelves as they are sold out almost as soon as they arrive.
Benefits Of Tramontina Dutch Ovens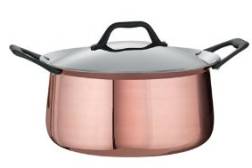 One the biggest benefits of Tramontina Dutch ovens is the price. These Dutch ovens are sold at a price that makes it possible for anyone regardless of budget to own a Dutch oven and enjoy Dutch oven cooking. Their 6.5 enameled Dutch oven sells for under $40.00.
Their seven quart stainless steel Dutch oven features a TriPly bottom and has an extremely modern and classy look making it appealing to most people who like modern cookware.
Tramontina gives you a choice of stainless steel, enameled or preseasoned Dutch ovens. No matter which Dutch oven you choose, you will have a durable Dutch oven that distributes heat evenly, looks good on your stove top and creates great food from soups, to curries, to tender pot roasts.
Tips On Using Tramontina Dutch Ovens
When using a Tramontina cast iron or enameled cast iron Dutch oven for searing meat, keep in mind that the distribution of heat in these Dutch ovens makes for a hotter surface so searing meat need not be done on high heat. Medium to Medium low heat will sear your meat perfectly without burning it.
When cooking with this Dutch oven regardless of material, keep in mind that the lid seals tightly to the Dutch oven holding in moisture and heat. Cooking your meal on low heat will render meat and vegetables incredibly tender.
While both the stainless steel and the enameled Dutch oven may be dishwasher safe, washing them in hot soapy water by hand will keep the finish looking good longer. If your stainless steel Tramontina Dutch oven
starts to look a little smoke or grease stained cleaning it with Barkeepers Friend and a soft cloth and then rinsing it well will restore the shine and have it looking like new again.
Using metal scrubbers when cleaning or using sharp implements when cooking with your Dutch oven regardless of which material it is made can scratch the cooking surface or remove the seasoning resulting in a less than perfect cooking surface on your Dutch oven.
What Makes A Tramontina Dutch Oven A Good Deal?
A Tramontina Dutch Oven is well made, durable and attractive looking.

The enameled Dutch oven can go from your stove top or oven to your dining room table and looks good both in your kitchen and your dining room.

The enameled Dutch oven comes in bright festive colors that sure to brighten up your Dutch oven cooking experience.

A

Tramontina Dutch oven

may well become your most used piece of cookware as it can be used for soups, sauces, roasting, frying and even baking.

Since Tramontina Dutch ovens come in a variety of materials you are able to choose the type of Dutch oven material you are most familiar and comfortable cooking with.

Tramontina makes other cookware besides Dutch ovens so your Dutch oven can match your other kitchen cookware.

A Tramontina Dutch oven is priced so that anyone can enjoy Dutch oven cooking without worrying about spending too much for this cookware.
Where and How to Buy A Tramontina Dutch Oven
Tramontina Dutch ovens
are sold literally everywhere. From Walmart stores to kitchen cookware stores and numerous places online. However, due to the looks, performance and price of this cookware many stores have trouble keeping this Dutch oven on their shelves making it somewhat difficult to find. Your best bet to purchase this Dutch oven is to ask your local store that carries this Dutch oven to hold one for you and call when a new order comes in or shop at the many online sites that carry this product. It may take a little patience and a little perseverance but, owning one of these Dutch oven is well worth it.
Summary Of Tramontina Dutch Ovens
Tramontina is a Brazilian company known for making durable, attractive cookware. Their Dutch oven is one of their largest sellers.

Tramontina Dutch ovens are made from various materials including stainless steel and enameled cast iron.

These Dutch ovens come in various sizes making them perfect for your family regardless of how large or small it may be.

A

Tramontina Dutch oven

is well made and well designed. The stainless steel Dutch oven has a classy look and a modern design and the enameled Dutch ovens come in bright and cheerful colors.

The enameled Dutch oven can go from the stove top or oven right to your dining room table helping to keep your food hot for longer periods.

A Tramontina Dutch oven performs like higher end Dutch ovens for a fraction of the price.
During our research we visited many online vendors and discovered that the best prices are typically found on Amazon.